Nutcracker Lessons 2013
January 01, 2014
---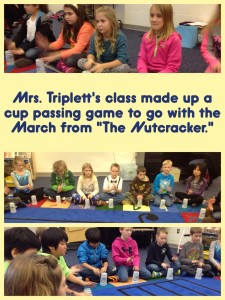 Every year in December, I teach themes from Tchaikovsky's ballet, The Nutcracker to grades 1-4. This year I used some old ideas and added a couple of new ones as well.
Here is Mrs. Tackett's third grade class performing their original choreography to "Trepak" at our all-school holiday sing-along on the last day before winter break. For more information about this lesson, click here.
Thanks to a great post by a music teacher I follow on Twitter (@PFPiedPiper), I found a great cup game for "Trepak" that I tried with the fourth grade classes. Two of the three classes really enjoyed it and decided to create their own cup games to the "March" from The Nutcracker. Mrs. Triplett's class's cup routine was very intricate. Mrs. John's class's was a little simpler, if any music teachers out there are interested in trying it with their classes. Both classes' videos are below.
The other fourth grade class, Mrs. Stephens's class, was not keen on the idea of making up a cup game. I'm not sure why not, but in the interest of giving the students' choice and voice, I gave them 5 minutes to convince me to do something different. One student, Christian had the idea to make up a flashlight dance. I was instantly sold! Luckily, so were the kids. My uber-supportive principal even let me use school funds to buy a class set of matching (working) flashlights. Here is their performance of "Dance of the Sugar Plum Fairy" from the sing-along.
Here are some additional photos of our Nutcracker experiences in music class this year.
[gallery link="none" ids="1493,1494,1495,1496,1497,1498,1499,1500,1501,1520"]