What Do Music Teachers Do On Snow Days?
January 07, 2014
---
What do music teachers do on snow days? Well, today, we danced!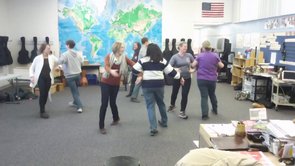 Eight of the Hilliard elementary music teachers got together today to learn folk dances we can teach our students. Here are links to the resources we discussed today at our professional development.
And here is a video of the three dances from the New England Dancing Masters books listed above!
 I love my job! And I am so lucky to work with other music teachers who love it as much as I do. Thanks, friends, for a fun snow day afternoon!